Our Story
Jim & Dee Patton are singer/songwriters who began their musical career together as urban missionaries during the Jesus Movement.

From completely different backgrounds and musical styles their collaboration has produced exceptional songwriting full of powerful lyrics and memorable music. During the 70's and early 80's, Jim and Dee toured extensively and knew or worked with Jesus Movement greats like Keith Green, Second Chapter of Acts, Larry Norman, Silverwind, and Andre Crouch. They collaborated as song-writers and sang with Barry McGuire and have songs on several of his Christian albums as well as gold and platinum albums for songs on Candle's children's albums Music Machine, and Bullfrogs & Butterflies, as well as songs on the memorable Agapeland and Nathaniel the Grublet albums.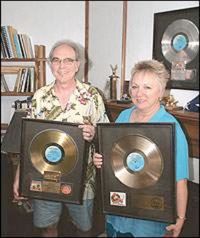 Jim & Dee have been married for 45 years and have 3 talented, artistic and musical daughters and 6 wonderful grand-children, so far. (4 here with us and 2 gone on to Jesus) They have written hundreds of songs for adults, young-adults, and children, many of which have been recorded. However, not only do they write and perform music, but also write books, stories, articles and blogs as well as teach songwriting, revival theology, and the creative process. They also mentor young ministers, musicians and missionaries and continue in full-time ministry as what they can only describe as being "musicianaries."

They sing as a duo most of the time, and have another name "Bongo and the Point" when they have others in the band and/or when they do oldies from the late 50's and early 60's. They do oldies a LOT - especially around East Texas where they now live. You can find Bongo and the Point online at bongoandthepoint.com.