Originals
Jim and Dee perform covers regionally, mostly in East Texas, sometimes as a band and sometimes as a duo, but always known as "Bongo and the Point." Most people who know them in that capacity don't realize that for more than 40 years they have been singer/songwriter types who have gold and platinum albums to their credit. Here's a video of one of the original songs they perform from time to time. It's part of a Rock Opera called "The Selfish Giant" that Jim & Dee released as an album in 2008. The story, written by Oscar Wilde, is a memorable and moving. Jim & Dee first heard of the story in the early '70's and, though it took many years to finish, are happy to have added that to their body of work.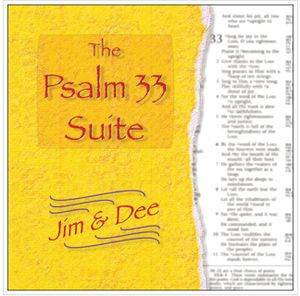 Jim & Dee's new album "The Psalm 33 Suite" was released in September of 2014 by Tate Music Group.
The album is just what the title suggests.
It's the entire chapter of Psalm 33 set to music.
Eight great songs from Psalm 33
Thought for Thought and in order
For Worship
For Memorization
For Your Listening Pleasure.
You can find songs from 
The Psalm 33 Suite
on
iTunes    2014-09-04
Rhapsody    2014-09-07
eMusic    2014-09-07
Amazon Digital Services Inc.    2014-09-05
Touchtunes    2014-09-06
Spotify    2014-09-05
Xbox Music    2014-09-07
Myspace    2014-09-08
Aspiro    2014-09-09
Omnifone    2014-09-08
rDio    2014-09-08
Google Music    2014-09-09
Oldies
Around 2008, when we finished "The Selfish Giant" we really, really wanted to get out and play live. When we first started it was freebies and coffee houses, but a wonderful thing happened. Two of our three daughters started singing with us. We did originals with them CCM, Kids music, our own special brand of Jim&Dee songs too. We performed TSG several times as well and even got some press along the way. We let the girls sing some of our songs and we started adding in some of the old pop and rock songs that had influenced us as budding musicians. People loved the oldies so we started doing them more and more. The girls added a vocal dimension that allowed us to do some really fun things. However, there was one problem. They didn't think it was appropriate to call the band Jim & Dee. So they thought of a new name. We thought it was a great one and together we became "Bongo and the Point"

The girls eventually got on with their lives. Elfin is a dynamo - writing and singing on her own now. She has 4 kids and a very busy life, but she and our awesome son-in-law Cliff Morgan live right next door so we get to see them often. He makes instruments and plays the blues and as anyone might guess - we just love having them around. Our youngest, Bree, married Joel Manahan, another great guy, and they moved to Southern California. Bree is a professional artist and property manager and Joel is working in video communications. We miss them, but are so proud of them all. That means, though, that it's back to being a duo for old Mom and Dad. We still do oldies and we're still called Bongo and the Point when we do or when we do original music projects and performances that involve collaboration with others.
 
We've had other band members since the girls left us in the dust. Victor Thomas - drums, Daniel King - bass, Jeff Muffalletto - bass, Keith Johnson - bass, Marty Maxson - drums and Tim Letsch - keyboards and vocals. Each of them brought great things to the table and it has been our great privilege to work with each one of them. We still sing with Tim sometimes, but usually now with His band - The Tim Lane Band. To find out more about Bongo and the Point check out the web site at