"So he answered, 'Do not fear for those who are with us are more than those who are with them.' Then Elisha prayed and said 'O Lord, I pray, open his eyes that he may see.' And the Lord opened the servant's eyes, and he saw; and behold the mountain was full of horses and chariots of fire all around Elisha." 2 Kings 6:16-17 (NASB) 

Every Summer, for at least 5 or 6 years, we went on tour up into Minnesota and into Alberta Canada to work for Jesus at a huge exposition called Klondike Days.
For the people of Edmonton Alberta and that whole region, Klondike days was a big deal. Tens of thousands of people poured through the gates each day and they came from all over. Every age, every color, every economic strata pressed together to have fun, get crazy, eat till they turned green and go on rides that made them dizzy and sick. They even minted Klondike Silver Dollars that you could spend all over the city. The whole city seemed to get Klondike fever and there was a party spirit, a little like Mardi Gras, that came over the whole place. 
Not far from the entrance to the rides, we were able to invade a large section that included, on one side, a Quonset hut, and on the other a large food booth. In the middle was a stage area where folks could come in, sit down and listen to "shows" we did twice an hour. 
The shows were filled with music. In between songs team members would speak, preach, share...what ever you want to call it - for just a few minutes. 
 Sometimes it was testimonies, sometimes forceful sermonettes, but because of the atmosphere things had to keep moving at a fast pace. No one ever preached for more than 3 to 5 minutes. Those who spoke would often tie things in to what they saw happening around them at the fair. 
"How many of you have been to the 'House Of Mirrors'? You know, that's what my life was like. I couldn't tell where I was going, or what was real until I met Jesus…" 
After the speaker, the group would sing another song or two and the show would end. We'd always invite people to stay around and talk. You'd be surprised how many did. That's where the real ministry was accomplished for the Kingdom of God. One on one. 
When it rained, we'd move the whole show inside the Quonset. We got really good crowds then. People came in to get out of the rain and we'd have a captive audience. We made a lot of friends and shared the Lord with many, many folks that way. 
The burger booth was just a big awning, tent sort of thing, with a grill area at the front and picnic tables at the back. It was a wonderful situation. Even the people who came in just to eat were very often exposed to the gospel, not only because of the witnessing the staff did, but because there were the shows going on right next to the food booth all the time. 
It was one of the biggest Holy Ghost conspiracies we ever had the privilege to be a part of. We just went right into the devil's turf and started snatching people out from under his nose. Every single day people gave their lives to Jesus. These were mostly un-churched people. 
 There were teams of us that went door to door witnessing in neighborhoods all over the city as well as the work that went on at the fair itself. In the evenings teams witnessed on the streets while the shows went on at the fair until things closed down around midnight.
As part of a street team one of our girls got punched in the face so hard that she landed on her back on the sidewalk. During Klondike Days Edmonton was a crazy place.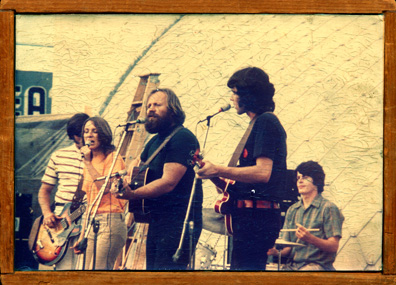 An early photo of us at the Klondike Days in Edmonton
This was the first year and the story came from the second year.
On stage is Rick Motter (bass), me, Barry McGuire, Jim and Steve Shubin (drums)
At our backs is the Quanset Hut from the story, but this photo was from the first year we were there.
The next year the stage was covered and oriented facing the midway - to our right in the photo.
I couldn't find a photo with the usual team, which contained about twice as many of the team, and a keyboard player. 
It seemed like we came against the occult and demonic more when we ministered in Canada than in other places we went. I'm not sure why this was. Perhaps God sent us specifically to minister where there were pockets of things that He wanted to come against. And since Holy Spirit uses people most of the time (even though he can use donkeys too) that's where He sent us.
We weren't a ministry that made a big deal out of dealing with the devil. We didn't focus on it at all. But it seemed like there were a few times when he focused on us. Each time, God's power won the day, but not always in the same way.
The second year we went to Edmonton we were introduced to a girl who was said to have been the High Priestess of a Coven before she came to know the Lord as her Savior. We did not lead Debra to the Lord. We actually met her about a year after her conversion. By that time five of her friends had been murdered by her old coven in an attempt to force her to return to them. 
The team at the fair got to know Debra through area Christians and spent a lot of time with her while we were in town. She was in constant fear of being found by her old friends and slept somewhere different every night. She was certain that they could find her through spiritual means. Needless to say we spent a lot of time praying for and with her. 
As we went about our ministry at the fair someone always kept her close. Debra was there every day and we encouraged her in the simple truths of the scripture and tried to build her faith in the protecting power of the Lord. 
We had been doing this for about a week. Debra seemed to be calming down and God was really moving in our midst. Christians at the fair loved to visit our area. Non Christians saw all the activity and came in to hear the music. Many were coming to know Jesus. 

We sang and played with what we called the UnChoir. We weren't very professional sounding, but we were full of the love of God, and the Holy Spirit, and we weren't afraid to sing out and praise Him in public. We wrote a lot of our own songs and sang the contemporary Christian music of the day. People seemed to like it and we DID work hard to get better. We had guitar, bass, and drums, and Tony's wife, Kathy, could really play the piano. We had 10 or 12 singers. 

One afternoon I was on stage with the UnChoir for one of the many shows we would be doing that day. Debra was sitting on a hay bale directly in front of the stage and everything seemed to be going fine. Occasionally I would glance down at her to make sure she was okay. People kept coming in to watch the show and it was getting so full that many were standing out in the midway at the back of the crowd. 

Suddenly Debra freaked out. Without even turning around to look she began trembling and rocking. In a few moments she jumped up and ran into the Quonset hut next to the stage. I eased my way off the stage even though the set wasn't over and went to see about her. I found her in the corner, curled up in a ball, with her head buried in her arms. 

When she heard me come in, her head jerked up - eyes wide with fear. "They're here!," she croaked. "They've found me." 

As I stood there listening to her, the Holy Spirit came over me stronger than I can ever remember. But unlike other times this was an intensely angry feeling. In a moment I heard myself telling her, "You stay right here! I'll show these people that they can't mess around with God's kids!" Then I turned, bolted out the back door of the Quonset, swung around a metal electrical pole at the corner of the building and hit the isle between the hay bales at a run. 

The show had just ended, but there were still people everywhere. I looked up and, sure enough, there was a knot of cloaked and hooded figures standing at the back of the crowd. I ran straight for them, never thinking about what I would do when I got there. But I never got the chance to do anything. They saw me. I'll probably never know what else they saw, but they scattered and ran as fast as they could. Jim had been playing instrumental music with the band for the time between sets and when he saw what was happening he dropped his guitar and ran after me. By the time I got out into the midway, there was not even one left for me to follow. It thought I saw something, but it was quickly gone. Jim arrived seconds later and there was just nothing. It was as if they were running for their very lives. 

When I got back to Debra she was fine and I don't remember any further incidents of oppression or attack while we were there. When we left, we turned Debra over to some "on fire" Christians and committed her growth and her safety to the Lord.